DOORS 7PM   SHOW 8PM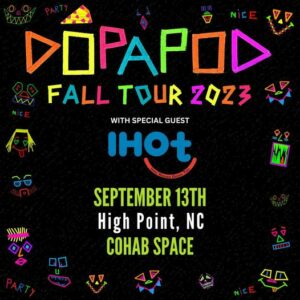 Dopapod access a heightened level of cosmic harmony in their music. The quartet—Eli
Winderman [keys, vocals], Rob Compa [guitar, vocals], Chuck Jones [bass], and Neal "Fro"
Evans [drums]—present albums as experiences meant to be shared out of your speakers and
on stage. After generating millions of streams, packing shows coast-to-coast, and earning
acclaim from Rolling Stone, Guitar World, Glide Magazine, and more, the group architect an
immersive and expansive vision on their self-titled seventh full-length offering, Dopapod.
The group's hypnotic hybrid of funk, rock, jazz, bluegrass, and electronica bloomed brilliantly on
2009's Radar, and it continued to blossom on the likes of Never Odd Or Even [2014] and
Megagem [2017]. Along the way, fan favorites such as "Present Ghosts" reeled in 2.4 million
Spotify streams and counting. 2019's Emit Time arrived to acclaim from Guitar World, Relix,
Glide, Jambase, and more. Simultaneously, they sold out headline gigs and graced the bills of
Electric Forest, Summer Camp, High Sierra, and Bonaroo where Rolling Stone named them
among the festival's "best kept secrets." After a marathon near-decade run, they enjoyed an
almost year-long hiatus to realign and reenergize before reuniting with a new fire during 2019
and partaking in something of a "soft return."
After a brief hiatus to regroup and recharge their creative efforts, Dopapod assembled what
would become their next album, the self-titled Dopapod, and looked at the loose threads of their
catalog to conceptually tie their journey together. They chose to self-title their seventh offering
as a totem to the fact they've realized their full potential in terms of music and vision. Tackling
time travel, balance and symmetry, binary pairs and more, Dopapod's palindromic existence
continues to conjure alchemy nearly fifteen years into their journey.
Isaac Hadden Organ Trio
Isaac Hadden Organ Trio is a heavy grooving, improvisational, cosmic chamber ensemble, carving out a distinct voice in the world of funk, jazz, rock, and R&B. The group performs intricate yet accessible original music and fresh arrangements of classic tunes.  Always hungry to push the boundaries, IHOT takes listeners on a journey through a myriad of musical styles, exploring the limits of how much sound a trio can make. The powerful creative forces of Isaac Hadden, Bill Stevens, and Iajhi Hampden combine to create deep musical conversations, unique to each show. These three musicians strive to create a group that functions as its own instrument, where each member contributes equally to create fresh textures and soundscapes. Bridging the gap between deep improvisation and airtight song craft, the group strives to transport listeners to places outside themselves. IHOT is serving up powerful dynamic music guaranteed to rock mind, body, and soul.